Smile Direct Club's ingenious solution to teeth aligners is a life savor for some people while it might not work for others. Does Smile Direct Club work? I'm going to give you an in-depth review of what it is.
What is Smile Direct Club?
Smile Direct Club is a direct-to-consumer invisible aligner company. The company claims they can give you a straightened smile in an average of 6 months. After signing with one of their plans, you will receive the plastic aligners delivered directly to your door so you can get your teeth straightened at home without the need to go into a doctor's office.
All communication between you and their team of licensed orthodontists is done via an online web portal. Smile Direct Club also provides a team of customer support through email, phone and chat to help you whenever you have questions.
This is the reason why you can get your teeth straightened at a fraction of the cost compared to other popular teeth straightening alternatives such as Invisalign or traditional braces at an orthodontist's office. Think Amazon versus a brick-and-mortar store, Netflix versus Blockbuster, Warby Parker versus Lenscrafters, etc…. I think their model is quite innovative, and the cost saving element is definitely an important point that makes them stand out from the rest.
Click here to visit Smile Direct Club's website.
How much does Smile Direct Club cost?
The whole teeth straightening plan with Smile Direct Club costs $1850 if you pay all at once, or $80/month with $250 down for 24 months. One great thing about Smile Direct Club is they offer a fixed price for all treatment plans regardless of how long it is.
The impression kit during the initial assessment is $49. And it's totally free if you choose to do the 3D scan at their Smile Shop locations. You will get $49 back if they decide you are not a candidate for the program.
Retainers are needed post treatment and cost $99. They usually last for 6 months before you need to repurchase them.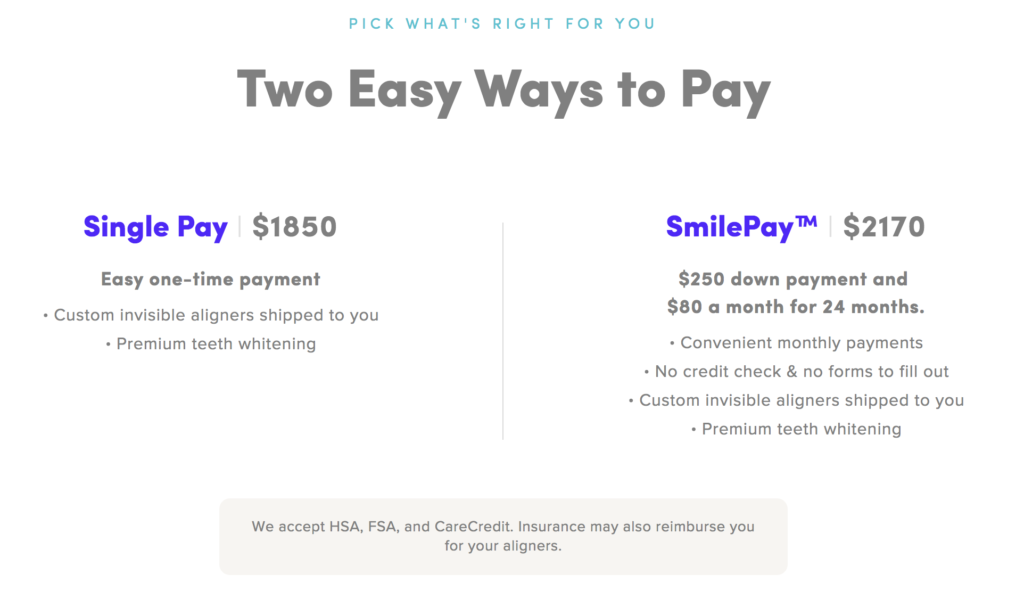 GOOD NEWS! From now until the end of April, you can get the impression kit for free, plus $100 off your treatment with code 'APRILGRINS'. This code is exclusive to PlayWithHealth's readers, making it completely risk free for you to try Smile Direct Club!
Book A Free Scan At A Smile Shop Near You
Or, Order Your Impression Kit (FREE After Rebate, Code "APRILGRINS")
How does the process work?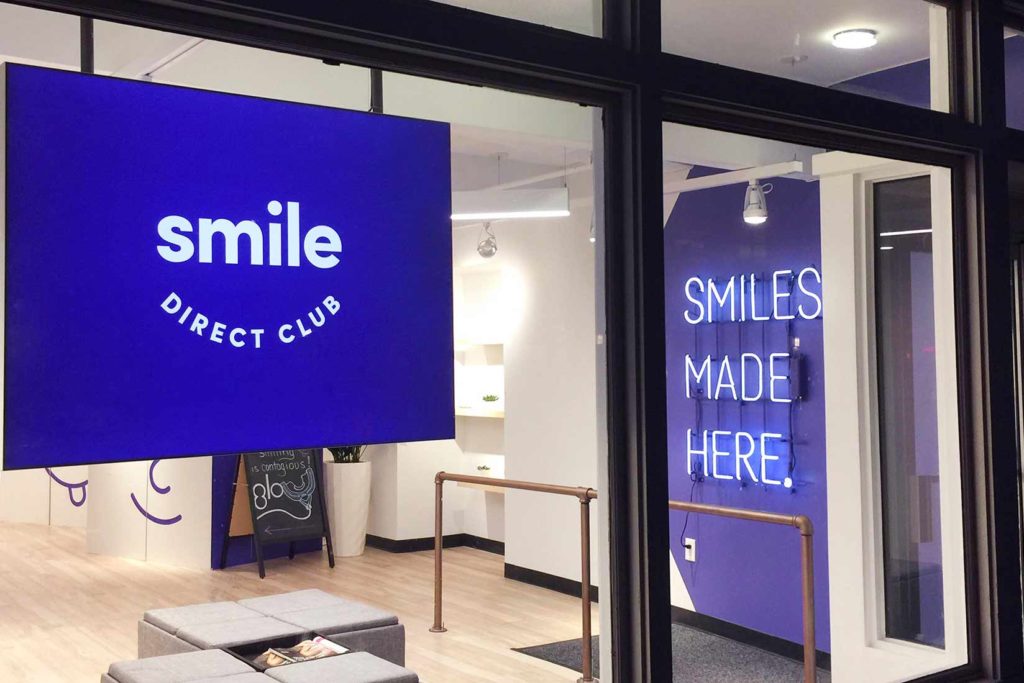 You can start the process with two options:

Option 1: Go online to fill out a survey and order an impression kit to be sent to your house. With this kit, you take pictures and create molds of your top and bottom teeth. After you send back the impression, Smile Direct Club will determine what needs to be done to get you a straightened smile.
Option 2: Visit one of its Smile Shops and get a 3D scan of your teeth. The 3D images helps Smile Direct Club determine your treatment plan. The appointment is totally free to you and takes about 30 minutes. There are many Smile Shop locations across the country, which makes it convenient. Beside cost saving, this option has some major advantages over taking the impression of your teeth at home:

It will render more accurate images of your teeth, which means your aligners will fit better and you won't likely need adjustments later.
You can ask their dental professionals questions about timelines, expectations, payment plans, etc,…
Bonus: after the 3D scan is taken, you will receive a canvas bag of complimentary products such as a $25 gift card (promotion of this month), a whitening pen and a teeth whitening kit that plugs into your cell phone (pretty cool!).

Once your 3D scan or your impression is sent back to Smile Direct Club, they will email you a 3D rendering of what your new smile will look like.
If you choose the regular track, you will need to approve the plan before they start making the first trays. In a fast track, Smile Direct Club starts making your trays right after they send your 3D rendering.
During the treatment, you will get a checkin from their licensed dentists or orthodontists every 90 days. Smile Direct Club also need you to send in photos regularly so they can monitor your progress.
If your teeth don't progress as planned, you can have your treatment refined at no charge.
Smile Direct Club comes with Smile Guarantee, which means if you don't like your aligners for the first 30 days, just send them back.
At the end of the treatment, you will go on to the retainer plan where initially, you will wear retainers all day then only at night after a couple of weeks.

Ok, so that's the show down of what to expect with the process with Smile Direct Club. Let's get into more meaty stuff down here.
Things to be aware of during the treatment
Are you ready to commit to the lifestyle changes in the next few months? Here are the things you need to be aware of while your teeth are being straightened:
Some level of discomfort: There's a lot of pressure on your teeth and jaws in the first 1-2 weeks as your teeth get used to the new aligners. For some people, this can even be painful. It's because the aligners are very tight, and that's how they can hang on to transform your teeth. However, life will get easier as each week goes on.

You meal time is shortened: Because you'll have to wear the braces for 22 hours a day, you only have 2 hours left for breakfast, lunch and dinner. You will need to crunch your time at each meal because the time includes taking the aligners on and off, eating the food and brushing your teeth afterwards.

You are likely to lose weight: Whenever you eat or drink anything but water, the extra loops make eating snacks, gums, candies more time consuming and less attractive in the middle of the day. So in a way, wearing the aligners makes you go on a diet. You will be more aware of what you eat and the eating frequency (remember, you only have 2 hours for having meals and brushing your teeth).

Your speech will change slightly: With the aligners in your mouth, you will feel a bit weird talking. Your words may sound like you are having a lisp.

Dry mouth

Watch out for the gums: Your gums might not be able to catch up with the movement of your teeth, leaving "pockets" in them where bacteria can build up. To prevent gum infection, try oil pulling.
A word of caution is all the above facts are common to wearing any kinds of aligners or braces. Your body needs to get used to your teeth being shifted.
The best thing to do is be prepared, know what to expect and research the tips you can do to make the best of your experience.
Scroll down to the bottom of this article for the list of tips. These are from actual users who have gone through teeth straightening with Smile Direct Club. Their advice will make your life much easier with invisible aligners.
Smile Direct Club reviews
These are popular reviews from actual users. Does Smile Direct Club work? Read on.
"It's been going pretty good so far. The experience is not as bad as I would have expected. I did not know what to expect going in, but it hasn't really been too bad". – Garfunkle
"I was not happy with their customer service, however whenever I got to the online chat, they did take care of whatever I needed". – Kelsey Gonder

"I was not happy with the fact that I needed to file down almost every single set of aligners in order to properly match my teeth, but that was worth to pay $2000 less" – Kelsey Gonder
"Now that I just finished the last month of refinement. I have the last retainer and I have to say I'm very happy with the result. Overall it's a lot more convenient not having to go to a doctor's office and obviously more affordable." – Miranda, Influencer, Blogger on SlashedBeauty.com
"Just finished nine months of treatment. They have been hassle free and easy to work with for the most part. They sent all 20 aligners to me to begin with. They did charge me monthly at different times of the months which was weird. My teeth are significantly better but I think they could be better so I have to go for refinement scans. A lot of people need refinements, and it's kinda part of it." – The Coffey's, 4 months ago
I completed the treatment and my results are excellent! My dentist was surprised. My bite is fine. I still saw my regular dentist while i was doing the process so its not like there was no one monitoring my progress. – 

Ellevart, 

4 months ago
I just completed mine to and am very happy with my results too. After it was done I went to my dentist to have my mouth looked at and nothing was out of place or wrong with my bite or teeth. When it comes to SDC you have got to weigh the pros and cons. I had braces before so I knew my mouth could fit all my teeth. I'm glad it worked out for you too because I'm noticing many people for many reasons weren't as lucky.
Frequently Asked Questions
1. How often do I change to new aligners?
It depends on your plan. Some people move to the next set of aligners every week, some do that every two weeks. Your pace can vary from week to week as well.
2. Can I use my insurance or FSA and HSA to pay for the plan?
Yes. You may get reimbursement from you insurance for part of the plan. According to Smile Direct's website, FSA and HSA are the other choices you can use to cover the cost of your treatment as well.
3. Does my credit card gets charged right in the first visit?
Not necessarily. If you prefer to give Smile Direct Club your payment info after you approve their treatment plan, you can tell the staff at the Smile Shop so.
4. What is Smile Direct Club's customer service number?
If you need to ask any questions, Smile Direct Club's customer service can be reached at 800-848-7566.
5. Is there an online community for me to get support?
Yes. You can join Smile Direct Club Facebook group to ask questions, share your experience and get support from others throughout the process.
6. What are refinements?
About 60% – 70% of people will need refinement at the end of their plan. The refinement trays make small adjustments to your teeth to ensure the final look of your teeth matches the initial rendering so you are totally satisfied with the results.
Click here to visit Smile Direct Club's website.
Smile Direct Club – Pros and Cons
Pros
Cons
Cost saving: The price for the plan is fixed at $1850, which is one third of the price from its other biggest competitor, Invisalign ($5000 - $8000).

Time saving: Compared to 1-2 years doing traditional braces, your plan only takes 6 months on average.

Not having to leave home: Beside saving time going to the dentist, there's an advantage of not being tied to a dentist office: your ability to move locations.
Can only help mild to moderate cases: From my research, Smile Direct Club works great with fixing small to moderate dental imperfections such as spacing between teeth or misalignment of some teeth here and there.

However, if you have an extreme case with crooked teeth, overcrowding, major overbites or underbite issues, their aligners may not be the best solutions.

How to check: There's a self-test on their website to see if you are a great candidate. If you are unsure, talk to your dentist to see if you need to get the issues fixed before going into the plan with Smile Direct Club.
People can't tell that you are wearing aligners: The aligners are clear and light, so no one can actually tell you are wearing them.

There are no teeth-like color attachments: Unlike Invisalign's, Smile Direct Club's aligners do not need the little ivory attachments to hold on to your teeth. So less hassle with taking them off after your treatment.


Customer service is a hit or miss: Smile Direct Club is a fast growing company so their customer service still need to catch up with their growing pace.

How to solve: If you have questions, call customer support instead of email, because the company tends to respond to calls or chats faster.
You can ask for a plan's adjustment: If your teeth don't progress as planned, just send Smile Direct Club the impression of your teeth again and they will re-adjust your aligners.
Your aligners will likely need to be trimmed down: Your aligners may be a bit longer than your teeth, causing discomfort while wearing them.

How to solve: You can use the file that comes with the first bundle or get an electric file to shorten the aligners (Amazon sells electric files like Kiss Powerfile To Go Nail File).

Orthodontic or dental wax from Walgreens also works great in smoothening the edges to make wearing the aligners much more comfortable.
In all of Smile Direct Club's advantages, the flexibility to do the plan from anywhere is a big plus for me. In 2015, I was in the middle of a treatment plan with Invisalign. Then I had to move out of state because of a job relocation. After settling in the new place, I had to find a new orthodontist and pay for the treatment all over again.
With Smile Direct Club, if there's any chance in the future I need to move, all I have to do is changing my shipping address. Rest assured, I won't be losing my previous progress and investment.
Tips To Make Your Life Easier With Plastic Aligners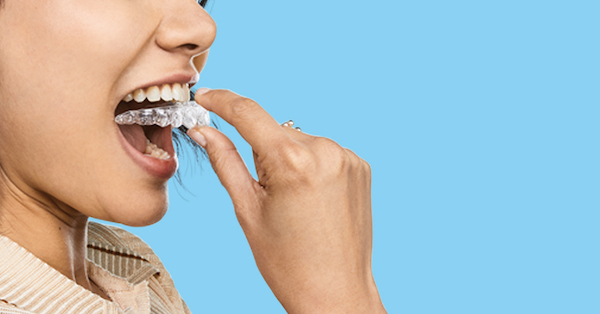 Wearing aligners can be uncomfortable and the teeth aligning process can be nerve racking. The tips below will make your life much easier with invisible aligners.
When you get the first set of aligners, try them on at night so your teeth have at least 8 hours to get used to the new aligners. This will help taking them out much easier in the morning. Especially for the first time, it is tricky to take them off because your aligners are very tight.
When taking off the aligners, remove them from the back of your mouth instead of the front.
Keep your old aligners in case you lose the current ones (and don't put your aligners on napkins, somebody may mistake them as used napkins and throw them in trash).
Wash your aligners everyday because they can get dirty pretty quickly. Look for a cleaning foam like the Eversmile white foam or cleaning pills like the Retainer Brite 96 Tablets (can be purchased from Amazon) to rinse the white debris off of the aligners' surface. Keeping the aligners clean will help your morning breath as well.

Drink with straws to avoid food stuck in between your teeth, hence making brushing and flossing easier.
Verdict
I hope you now have a wealth of information to make decision about giving Smile Direct Club a try. The 3D scan appointment is completely free plus you will get complimentary teeth whitening products at your visit. So if you are thinking about getting invisible aligners, I definitely recommend you first start by visiting one of their Smile Shops.
There's no risk in doing so. It's a good chance for you to ask their staff more questions and do deeper research about their offers.
Smile Direct Club is a legitimate program (voted 2019's best invisible aligners by Consumer Advocate). Since 2014, they have helped many people straighten their teeth without spending a fortune compared to Invisalign or metal braces.
Although you may have to trim down the aligners to get them fit perfectly, or call their customer support on the phone, many people have sworn by its results and from the fact that it saved them $2000 – $5000, the efforts spent are all worth it at the end.
Be sure to visit Smile Direct Club's website this month and use the coupon code "APRILGRINS" to take advantage of the $100 off treatment promotion. In case you can't visit a Smile Shop, you still get a free impression kit after rebate with the coupon.
Book A Free Scan At A Smile Shop Near You
Or, Order Your Impression Kit (FREE After Rebate, Code "APRILGRINS")
Questions, comments? I love to hear your thoughts about Smile Direct Club so feel free to leave them down here.